From Hannover to Europe – our success story:
Early days
Artur Schütz made the best of a tough situation by transporting general cargo for the Reichsbahn with his tiny three-wheeler. At the time, he earned four Deutschmarks per day.
Until 1949, the three-wheeler was the only way he could earn a living – which, by post-war standards, counted for a lot. His biggest challenge was sourcing the petrol.
The first truck
After the currency reform, Artur was able to purchase a small truck for the first time. At first, he was a one-man shop. He was the driver, office clerk, apprentice, car mechanic and manager all at the same time.
Fruit and vegetables were his main cargo. His workday usually started at 4 a.m. and didn't finish until late at night.
Family business, the second generation
Artur Schütz' son Helmut Schütz started working in the family business. He had long dreamt of moving into transporting heavy goods – and after just a short while, he started building up a department for heavy transport.
Success through performance
The company was already running 10 vehicles and started to take on inter-regional transport.
Reinforcements for the business
Helmut Schütz' wife, Vera Schütz, joined the family business as a qualified saleswoman for freight forwarding projects.
The Schütz family also grew at home: Ahrndt was born in 1970, and Eike followed in 1973. Both were destined for the freight forwarding industry.
Handing over the first baton
Artur Schütz handed over management of the company to the second generation and took his well-deserved retirement.
Helmut Schütz took over responsibility for the management of the family business' 20 employees in Hannover. By this time, the company has gained important experience in the field of "special machine transport" and is able to meet a wide range of requirements.
The company continues to evolve
Arne Häsener started work at Schütz immediately after training as a forwarding agent. Initially working as a dispatcher covering a number of different areas, he later worked as the head of the assembly and heavy construction columns. During this time he began his part-time professional studies in economics and business administration. From 1999, he explored new professional challenges, before returning to the company in 2011.
The Iron Curtain falls
The company used this year to expand its business activities. Helmut Schütz took to the road for days in the new federal states of Germany and set up business there. The firm acquired Spedition Heinrich in Dresden, taking on its ten employees and four vehicles.
The third generation
After working hard for two years and expanding the company's capacity to 22 employees and 11 vehicles, Ahrndt Schütz took over management of Heinrich Schwertransporte in Dresden. He successfully continued operations and became, to his parents' delight, an expert in both the technical and commercial sides of the business.
A young and dynamic team
1994 to 2001
In 1994, 50 years after the foundation of the company, Eike Schütz, the second son, successfully completed his training as a forwarding agent and entered the family business. Eike Schütz made remarkable progress towards becoming a forwarding professional in both the commercial and technical branches of the business.
In 2001, Holger Gross started his disposition activities. After two years of other activities in southern Germany, he returned in 2006 and later took over forwarding management.
Preparations
Together with Helmut Schütz, Eike Schütz, Holger Gross and Arne Häsener began to prepare the second baton handover. Helmut is happy to pass on his know-how.
With Eike Schütz as technical manager, Holger Gross in forwarding management and Arne Häsener as office staff, Helmut Schütz continues to successfully lead the team.
The second baton is handed over
Contrary to the original plan, Eike Schütz left Schütz Spedition in 2014 and took over the responsibility for TMM Transporte International GmbH from his father. He continues to run the enterprise successfully.
Schütz Spedition GmbH's new leadership was formed with Holger Gross as the operational director and Arne Häsener as the commercial managing director.
All employees stayed on at the young company which took over the entire fleet, as well as the special tools and equipment for the assembly columns.
This provided the company with the long-term know-how of its employees and an extensive special fleet and modern tools.
Modern technology allows for almost any kind of transport.
From sophisticated machines, through heavy safes, to 100 ton transformers and large excavators, we transport everything, punctually, to the desired location. Various loading cranes, forklift trucks, suspension systems on rails and many other technical tools facilitate the demanding work of our trained personnel.
Flexibility, a highly developed awareness for quality and performance, and a commitment to the cause, all contribute to the impressive level of service that we provide; for people, by people.
Our guiding principle is trust. Trust in our employees, business partners and customers.
Customers, partners and employees can have faith in us – a tradition that goes back to the days of the company's founder Artur Schütz.
Our success story continues – you can count on us!
Grand Jubilee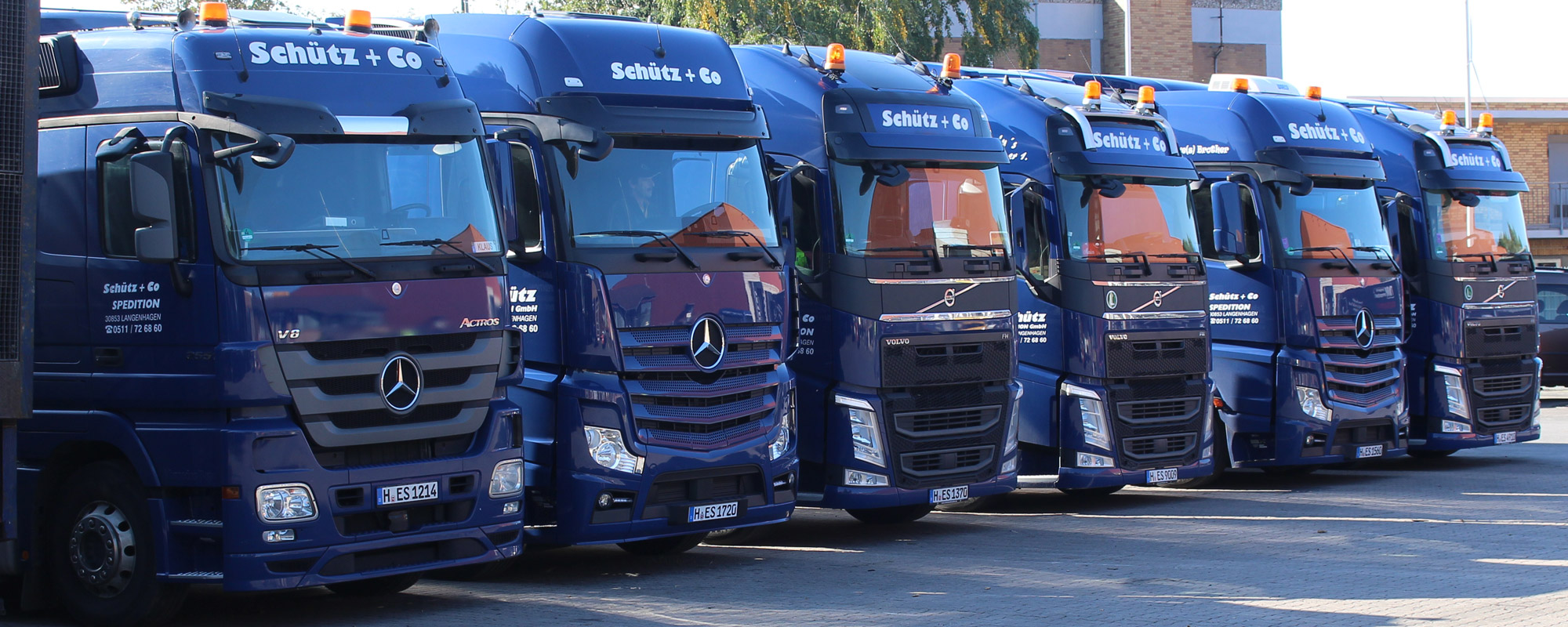 Schütz Spedition celebrates its 75th anniversary in 2021.